About Urban Garden Studio: Bringing Nature Inside with Preserved Moss Wall Art & Custom Rustic Decor.
We are Urban Garden Studio located in the San Francisco East Bay. Offering stylish and affordable preserved moss wall art and living walls as well as rustic decor to help your home or business make a fresh impression. Transporting that beauty, that feeling of being in nature into the interior world.
We use a palette of reclaimed wood with different plants, preserved mosses, succulents and air plants to create a framed piece of living wall art. An inspiring and original alternative to corporate prints in offices and a unique feature in any residential interior. Simple, easy to maintain and eye-catching vertical wall gardens that are one of a kind. Preserved moss wall art uses real, preserved moss, succulents, and air plants for those who want zero maintenance. The plants maintain their vibrant color, but require zero care! This means that there's no watering, no replacing, no extra costs, and no stress! Enjoy the meditative quality each piece brings. Check out our preserved moss wall art.
Transform Your Space with Urban Garden Studio's Collaborative Design Approach
At Urban garden Studio we truly believe in the transformative power of design. We want to inspire people everywhere to have the courage to let go of certainties through their own creativity. Good design and good relationships come from a relaxed and open communication system.  We will collaborate with you every step of the way, to make sure you are comfortable and that no question is left unanswered. We promise that the process will be fun!  We're excited to start a visual dialogue with you to learn about you and your canvas. Let's make something beautiful together.
"Creativity is seeing what everyone else has seen, and thinking what no one else has thought."  -Albert Einstein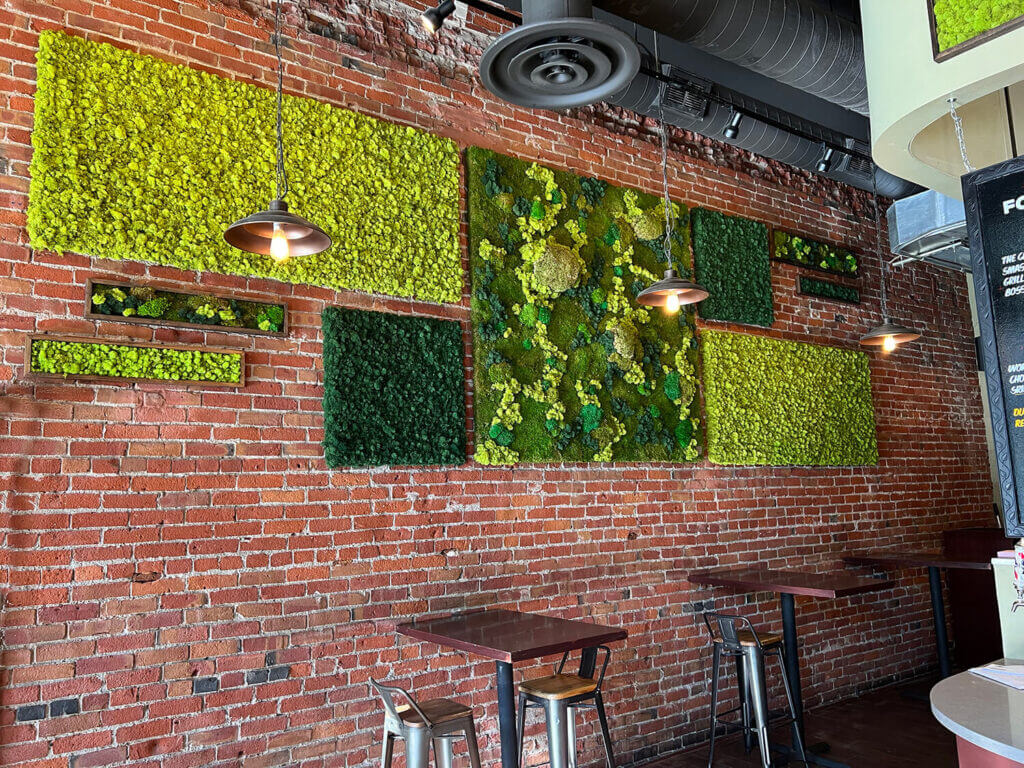 Frequently asked questions about living walls, also known as preserved moss walls.
What is a preserved moss wall?
A preserved moss wall is a type of living wall or green wall made of plants and real moss that has been preserved to maintain its natural texture, color, and softness. It does not require soil, watering, or sunlight to survive.
What are the benefits of having a preserved moss wall?
There are many benefits to having a preserved moss wall in your space, including:

Reduced noise: Moss walls can absorb sound, making them an ideal choice for noisy or busy environments.

Increased relaxation: Moss has a calming effect that can help reduce stress and promote relaxation.

Aesthetic appeal: Moss walls add a natural and unique aesthetic to any space, and can be customized to fit your design preferences.

Low maintenance: Unlike traditional living walls, preserved moss walls require no watering or sunlight, making them a low-maintenance option for any space.
Where can I install a preserved moss wall?
Preserved moss walls can be installed in a variety of indoor spaces, including homes, offices, restaurants, hotels, and other commercial settings. They can be mounted onto walls. We also recommend placing the product out of direct sunlight, as over time the sun can damage the work.
Can preserved moss walls be customized?
Yes, preserved moss walls can be customized to fit your design preferences. Moss walls can be created in a variety of shapes, sizes, and colors to fit any space or design style.
Is a preserved moss wall environmentally friendly?
Yes, preserved moss walls are environmentally friendly. They are made from real moss that has been sustainably harvested and preserved without the use of harmful chemicals. Additionally, because they require no watering or sunlight, they are a low-waste and energy-efficient option for adding greenery to indoor spaces.
Are moss walls healthy?
Preserved moss walls have a positive effect on cognitive function, stress levels, and emotional well-being. Exposure to plants and natural elements– whether living or preserved– has been shown to lower physiological stress and improve our mental health.
How to care for preserved moss wall art?
Preserved moss is self-sustaining and does not require water, or sun light making it hassle-free and maintenance-free. It will forever flourish all on its own, with little to no effort needed from you. Simply hang and enjoy!